Our Story
Our commitment to inspiring, educating + delivering a new level of luxury CBD + wellness products to the world, bringing better living through wellbeing and serenity.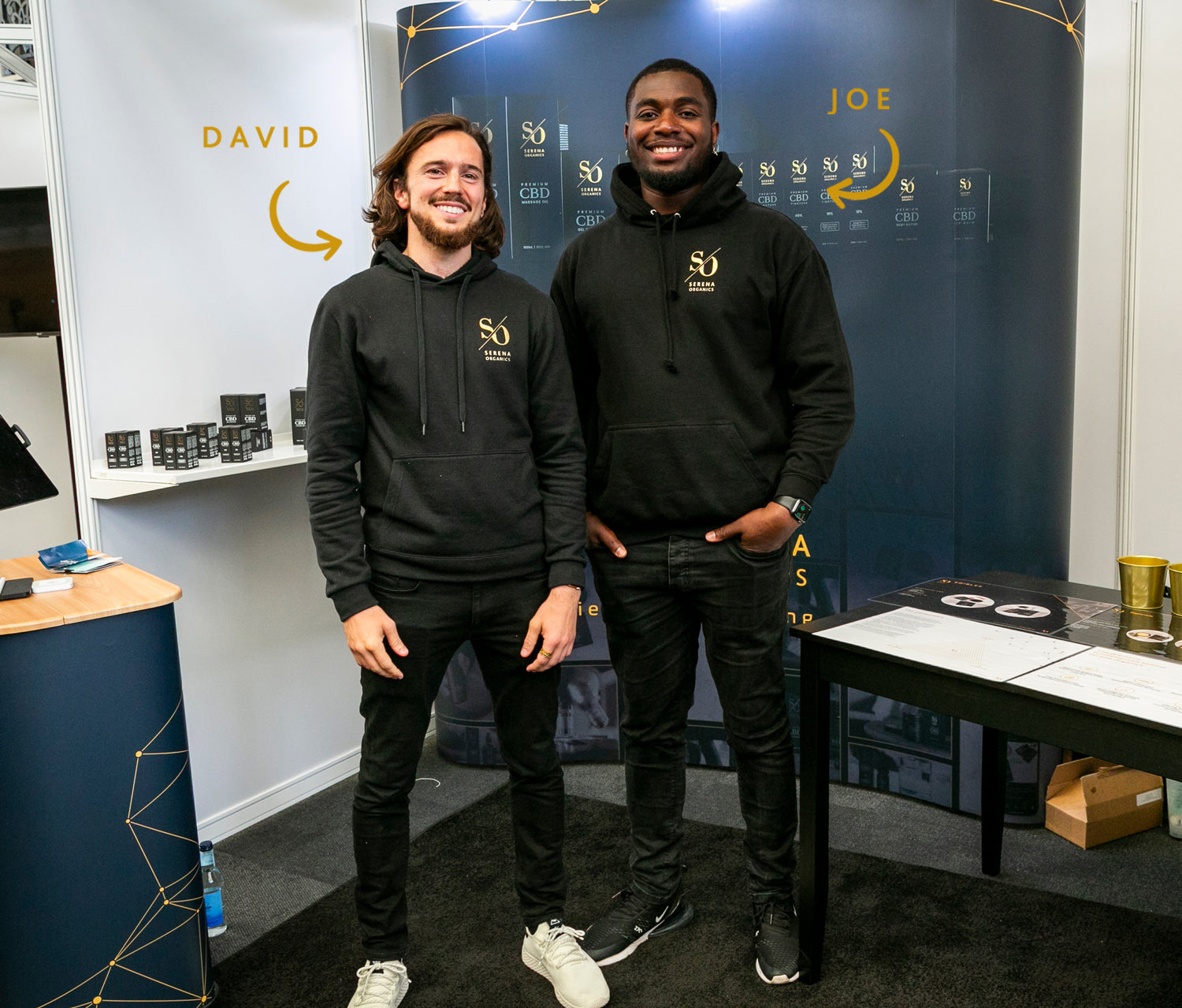 MEET JOE + DAVID
We began our Serena Organics journey after recognising two major flaws in the UK CBD market; firstly, a severe lack of education + secondly poor-quality CBD products. Both of these shortfalls combined, created a massive mistrust among consumers. Understanding that even proven CBD benefits fail when the quality of products fail, we applied our knowledge gained whilst working in the industry while the United States + Canada to create a brand that our peers + community could trust and learn from. Through rigorous science and sharing only the share worthy, Serena Organics marries the science with well-being to offer premium products, helping consumers from the stressed achievers, remedy seekers to believers. Helping them on their journey to feeling their best every day.

The success stories we hear from those that use our products gives us immense pride + joy, whether that be relief from insomnia, reduced anxiety or pain, improved quality of life from chronic neurological conditions or even those looking for contentment in their daily lives. As we continue to push the frontiers of what can be achieved through CBD, its science, education + the wellness it provides, we look forward to strengthening our relationships with our ambassadors + partners who have shared goals + values towards improving the health + wellbeing for all.

Regards,​
Joe + David
MEET PROF. MIKE BARNES
Consultant Neurologist and leading cannabis clinician, for over 20 years Professor Mike Barnes has been at the forefront of medical cannabis in the UK and now share his wealth of knowledge with Serena Organics community as their trusted Scientific Advisor.
In 2016, his report titled "Cannabis - The Evidence for Medical Use" gained significant influence and was credited with advancing the discussion on medical cannabis in the UK, Channel Islands, and Ireland. As a result, on November 1, 2018, the UK Government reclassified cannabis, permitting specialist doctors to prescribe it legally. Prior to this, Prof Barnes had written the first NHS prescription for medical cannabis for Alfie Dingley, who suffers from a rare form of epilepsy, through a shared care agreement earlier that year.
SEE THE SCIENCE
Seekers
For Remedy-Seekers with specific health and wellbeing needs – such as pain management, anxiety or insomnia – the same science, precision and analysis helps build trust and legitimacy for new treatments.
VISIT OUR COMMUNITY
Believers
For Believers, spiritual searchers already persuaded of the many benefits of CBD oil, the Serena Organics range finally provides the consistent quality and integrity these benefits warrant.
VISIT OUR COMMUNITY
Achievers
For time-starved, stressed Achievers, rigorous lab testing helps overcome any negative associations of legacy cannabis usage. These are carefully analysed and calibrated high-performance products for high performers, such as Serena Organic's Ambassador and Formula 1 racing driver Daniel Ricciardo.
VISIT OUR COMMUNITY